Guiyang fosters quality growth
Source: chinadaily
Time: 2020年05月26日
Author: Yuan Shenggao
Deep integration of advanced technology, industries key to sustainable development
As a key hub for land-sea transport in West China, Guiyang, in Guizhou province, is aiming to strengthen itself as an engine for open economy and achieve high-quality development by deepening supply-side structural reform, further opening up and boosting pillar industries such as big data, local officials said.
"The real economy is the foundation of the regional economy, and the growth of the real economy is the backbone supporting the high-quality development," said Zhao Deming, Party secretary of Guiyang.
Guiyang's GDP reached 403.96 billion yuan ($56.75 billion) in 2019, an increase of 7.4 percent year-on-year. It has been awarded the title of China's Best Performing City for four consecutive years.
Over the years, Guiyang has tried hard to develop the real economy by focusing on consumption, manufacturing and integrating big data with industries.
Chen Yan, mayor of Guiyang, said that in recent years, Guiyang has given full play to the advantages of its big data development.
"While strengthening and optimizing the big data industry, it has insisted on the deep integration of big data and the real economy as its main direction, and assisted the real economy with next-generation information technologies such as big data and artificial intelligence."
In 2019, a total of 105 big data projects were introduced, with a total investment of some 21.62 billion yuan.
Chen added that the deep integration of big data and the real economy has added new momentum to the industrialization, collaboration and digitization of Guiyang's industries.
During the novel coronavirus pneumonia outbreak, Baishan Cloud Technology, a cloud computing service provider focusing on data services, contacted all online primary and secondary schools across the country to provide free teaching and technical services.
The company's technology and online schools have provided high-quality online services for teachers and students of many schools in Hubei province.
Since its establishment in Guizhou in 2015, the company has been insisting on technological innovation, using cutting-edge computing, big data and AI to build an innovative cloud computing service platform that links data, applications, systems and networks.
At present, Baishan Cloud has 19 core technologies, 85 invention patents and 68 computer software copyrights, and has submitted more than 500 patent applications. From 2016 to 2018, Baishan Cloud achieved operating revenues of 202 million yuan, 620 million yuan, and 1.05 billion yuan.
Another example is Guizhou Tire, which focuses on the in-depth integration of big data and the manufacturing industry.
Liao Chengchen, a representative of the National People's Congress, and a technician of the Power Supply Branch of Guizhou Tire, said the success of Guizhou Tire is inseparable from its technological innovation.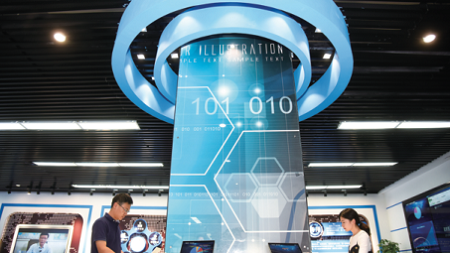 Staffers test data at a digital economy industrial park in Guian. CHINA DAILY
In recent years, Guizhou Tire has established systems for industrial internet, full-process barcodes and intelligent scheduling of tire production, laboratory information management, finished product warehousing and logistics.
Liao is mainly responsible for the fault maintenance of the company's major equipment including steam, air pressure, water and power supply.
"Our business is the most basic level, although it is not a production link, but all production is inseparable from us," Liao said.
Guizhou Tire now has more than 7,000 tire models with a minimum diameter of 15 inches and a maximum diameter of more than 51 inches.
It can produce more than 2,000 tire varieties, which are widely used in agricultural, mining, desert and other special vehicles.
The main products are truck and bus tires, construction machinery tires, agricultural tires, industrial tires and specialty tires.
It is one of the most complete commercial tire manufacturers in the world and the largest supplier of military tires as an original equipment manufacturer in China.
Its products are exported to more than 120 countries and regions such as the United States, the United Kingdom, Italy and South Africa, with an export ratio over 35 percent.
Taking advantage of the Belt and Road Initiative, Guizhou Tire is also building an overseas base in Long-jiang Industrial Park in Vietnam. The total investment of the project is $400 million, with an annual output of 1.2 million all-steel radial tires and 800,000 offroad tires.
"Building a factory in Vietnam means that Guizhou Tire has taken a solid step on the road to becoming an international enterprise," said Pu Xiaobo, deputy secretary of Guizhou Tire's Party committee.
"In the future, Guizhou Tire will continue to promote the in-depth integration of big data and industry, which encourages the company to introduce international rules to improve management, technology, research and development and production."
Chen said Guiyang has also promoted the in-depth integration and development of various industries in the field of big data and services, and has achieved fruitful results.
"For example, we launched a Guiyang Reservation Tourism project to provide the public with a time-share reservation service for tickets in various scenic spots in the city," he said.