Patents, talents make Oppo glow
Source: chinadaily
Time: 2020年06月22日
Author: MA SI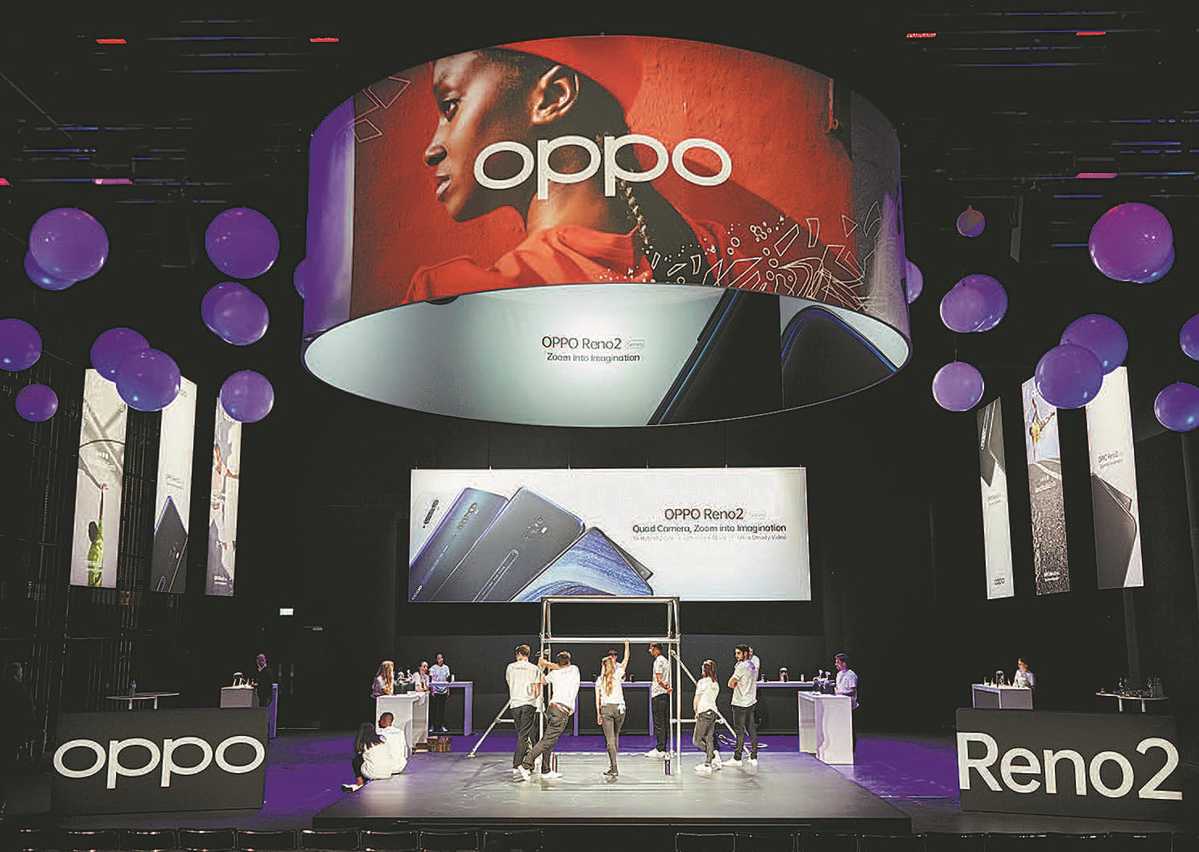 Oppo employees prepare for the launch of the Reno 2 smartphone in London in October. [Photo provided to China Daily]
Smartphone maker's overseas expansion intensifies despite the pandemic's effects
Chinese smartphone maker Oppo continues to march forward on the global stage. It has opened its European headquarters in Germany and inked a comprehensive partnership with telecom carrier Vodafone.
The moves follow Oppo's splash in the western European market despite the COVID-19 outbreak. The Guangdong-based company believes that its more than 10 years of experience in exploring foreign countries, and its growing pool of patents and international talent, will help it to go global in a better way.
Oppo said setting up the brand's European headquarters in Dusseldorf, Germany, which was officially opened in late May, is a strategic choice for the company.
Maggie Xue, president for Oppo's western Europe business, said the move also confirms the company's wish to invest in European smartphone markets. The Germany push is also an extension of its success in expanding its presence in overseas countries and regions.
"We are proud of what has been realized so far (in Europe) and are convinced that this new organization will allow us to go even further in supporting our local offices and to roll out our development plans for an even stronger presence in Europe," Xue said.
In the first quarter of this year, Oppo achieved a remarkable performance in Europe, making it one of the top five handset makers in the region, data from research firm Canalys show.
Global smartphone shipments fell 13 percent in the first quarter to 272 million units due to the impact of the COVID-19 pandemic on the global economy. Against such a backdrop, Oppo managed to grow its smartphone market share in Europe by 1,014 percent year-on-year!
Its first-quarter performance was especially impressive in Italy and Spain, where its sales grew 15 times year-on-year, data from Canalys show.
Oppo's growth in Europe against the downward trend of the overall smartphone market demonstrates that the "global plus localization" strategy is beginning to pay off.
Wu Qiang, vice-president of Oppo, said the company is not adopting an aggressive strategy in overseas markets. Instead, it strictly follows the principle of "eating rice bite by bite".
"We will only enter the next market after doing a good job in existing markets," Wu said.
In June 2018, Oppo entered the European market with the launch of the Find X flagship phone at the Louvre in Paris and the announcement of a partnership with local telecom carriers.
Oppo is also among the first to bring 5G smartphones to the European market. In early 2019, the company kicked off "5G Landing Project", an initiative to drive cooperation with global network operators, promote the implementation of 5G products and services, and connect new industries.
Later that year, it launched the 5G commercial smartphone-the Oppo Reno 5G-in Switzerland.
When Oppo launched the Find X2 5G smartphone series in March, the company brought 11 new global telecom operators to join its "5G Landing Project". New partners included French telecom carrier Orange, Deutsche Telekom from Germany, Telefonica from Spain, Telcel from Mexico, and others.
Starting from the second half of 2019, Oppo's overseas sales have already surpassed that in China.
Currently, the company's products and services are available in more than 40 countries and regions. Oppo has six research institutes and four research and development centers around the world. It also has a global design center in London. Globally, it has more than 40,000 employees.
Other Chinese smartphone makers, including Huawei, Xiaomi and Vivo, are also looking beyond their home turf for growth. In this context, Oppo believes it has an edge over others as it first started its international journey as early as in 2009 in Thailand, much before others jumped on the go-global bandwagon.
Last month, Oppo announced a comprehensive partnership with Vodafone, which will bring a broad range of the Chinese company's smartphones to its European markets. This process started already in May.
In the first phase of cooperation, Vodafone will introduce Oppo's products across retail channels in Germany, the UK, Spain, Italy, Portugal, Romania, Turkey and the Netherlands.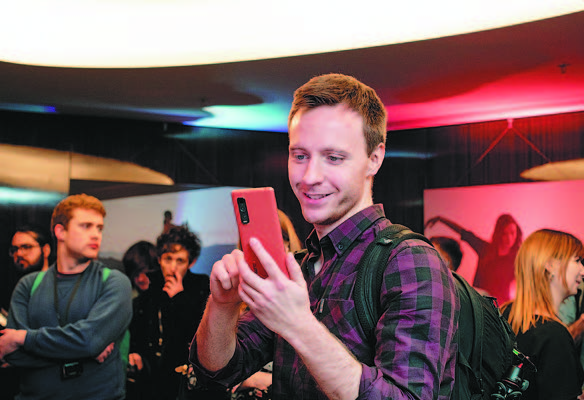 A visitor checks out an Oppo Find X2 smartphone during the product launch in Barcelona. [Photo provided to China Daily]
Ahmed Essam, chief commercial operations and strategy officer at Vodafone, said the two companies will work together to give customers greater choice with the full potential of 5G.
"Vodafone's partnership with Oppo brings together their attractive product portfolio with our growing strength in 5G to our markets across Europe and beyond."
Oppo makes most of its products in-house. Most of its plants have resumed normal operations. Even during the outbreak, the company continued to provide products to Vodafone to ensure business continuity.
While physical retail is currently constrained, Oppo and Vodafone said they will develop online sales channels and ensure continued support for customers.
Tarun Pathak, associate director at market research company Counterpoint Research, said amid the outbreak, companies have to find ways to reach their consumers digitally. This could increase the adoption of online-to-offline channels and hyper-local delivery services in smartphones.
Oppo is also striving to sharpen its technological edge through innovation. By March 2020, Oppo had more than 43,000 global patent applications, with 16,000 already authorized. Among the applications, about 88 percent, or about 38,000, are invention-related.
From this year to 2022, Oppo said it will invest 50 billion yuan ($7.1 billion) on research and development amid fierce competition.
Chen Mingyong, CEO of Oppo, said: "We have the faith of sharpening a sword in 10 years and we will ramp up the push to build our own technical moat."